ATM MACHINES – SEICO SELLS IT
SEICO recognizes the need for dependable, trustworthy, and secure ATM machines for your financial institution. Your customer needs a user-friendly machine, while you require the peace of mind that your ATM and its assets remain safely secured.
We carry Nautilus Hyosung ATMs and offer additional anti-skimming devices to help protect customers and prevent fraudulent activity. Nautilus Hyosung is a leading provider of ATM technology and solutions. The company's vertical integration development model and customer-centric philosophy delivers peak performance, high reliability, and an overall enhanced value for your financial institution.
MoniMax7600I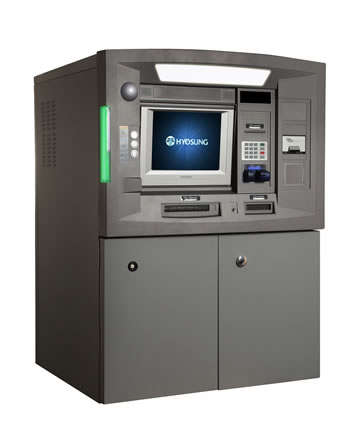 The MoniMax7600I is a full service island ATM. Consumers can deposit cash and receive dispensed cash and transaction records through openings in the fascia. Installed in drive-up locations or shopping center parking areas, the island ATM is a versatile, easily maintained delivery system that can be modified to keep pace with the bank's changing needs Proven deposit automation technology is provided from in-house designed and manufactured envelope-free deposit modules. The Monimax 7600i provides continual deposit and cash service to customers with industry-leading uptime rates.
SEICO SECURES IT, TOO
Not only do we provide the latest ATM technology, we also protect it. Whether you wish to purchase a new machine, simply secure a pre-existing machine, or do both, SEICO has you covered with ATM security.
With intrusion and hold-up systems, SEICO can protect the carriers, equipment, and other critical components of your financial institution's ATM machines. All potential areas of fraud, to include card skimming, are secured through our unique method of applying these advanced technologies to fit your institution's specific needs. It's important to be one step ahead, and we can help keep you there.
Contact us for more information on how we can provide and protect your ATM equipment.