Keeping healthcare facilities secure
Healthcare institutions require a well-thought-out surveillance and security system. Video conferencing and other audiovisual equipment is often desirable to facilitate tele-medicine meetings. Photo ID/video badging systems can control security involving visitors.
Clients Include:
Hillside Lutheran Village, Peoria, IL
Illinois Cancer Care, multiple locations in Illinois — digital signage, video conferencing
For a complete listing of healthcare references, contact us.
Profile:  Illinois Cancer Care
Illinois Cancer Care selected SEICO Security to design and install a web-enabled digital signage system that would meet their dynamic, communications needs. Ben Rogers, IT director for the Cancer Center's thirteen offices in Illinois, was pleased with the proposal for an Extron and Tightrope Media System. The design met the current requirements and provided a new level of communication for their patients. The new digital signage system will bring an ease to providing current information and data to customers and will provide for scalable growth in the future.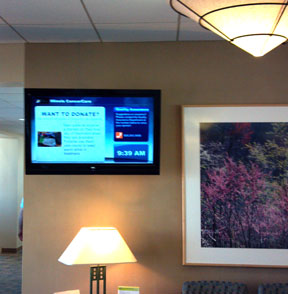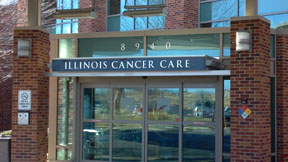 The Carousel server provided the Cancer Center with a complete package of both hardware and software that will allow up to fifteen separate channels of dynamic digital signage. Content can be uploaded, screens can be created, and the system can be programmed from any location with an internet connection. The system has multi-zone displays for exciting, active content. It interfaces with popular event management systems such as Dean Evans and Resource 25*.
SYSTEM – SPECIAL FEATURE
The system comes with dozens of pre-defined templates and custom graphic designs. The perfect system for intelligent scheduling, bulletins and feeds to keep customers informed.
"I have worked with Seico on several projects throughout Illinois. Follow-up changes or additions were handled very timely, along with the same quality of original installations. Victor Oggero is great to work with as our sales consultant and very knowledgeable. He has good follow through to completion of a project and I look forward to working with him in future."
– IT Director, Illinois Cancer Care