FINANCIAL SECURITY AND EQUIPMENT
The safe deposit boxes available at SEICO provide peace of mind by offering a secure environment to safely store the assets that matter the most to you. As a Hamilton Safe manufacturer representative, SEICO has numerous options for your next safe deposit box.
Our safe deposit boxes product lineup, as well as the metal bond tins that hold your valuable possessions, are manufactured in American factories.
When quality reflects the level of protection and security, trust SEICO for your private and bank safe deposit boxes. Choose from many different options, including the walk-up automatic access safe deposit box pictured above.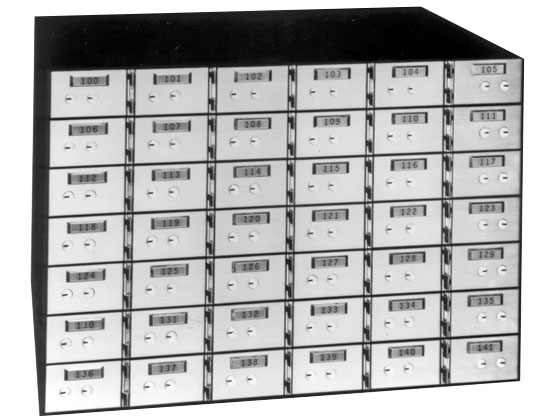 Reduce Cost – Increase Revenue
Consider the new SafeStore Auto, an automated self-service system for safe deposit boxes (SDBs). This system gives your clients around-the-clock access to their box contents resulting in a better, much more convenient service. Added benefits – SafeStore reduces the costs associated with traditional SDBs, but also generates a stream of revenue added value upsales.
Stainless Steel Safe Deposit Boxes
Choose maintenance-free, stainless steel sections in a variety of size combinations. We allow you to mix and match sections of safe deposit boxes to get the optimum layout. Our numbering plate system offers optimum flexibility for any renumbering, rearrangement, or even relocation of sections in the future. Stainless steel safe deposit boxes prove to be highly effective in bank and commercial setting.
Modular Aluminum Safe Deposit Boxes
Create the ideal combination of safe deposit boxes with modular aluminum options. ½" solid polished aluminum doors with stamped numbers can be made in several modular sections with different box sizes. We represent every lock manufacturer in our product line. We also drill locks without destroying the door, putting a new lock in its place and leaving your safe deposit box ready to rent again immediately. Modular aluminum options often serve as the ideal solution for private safe deposit boxes for more basic applications.
Custom Safe Deposit Boxes
If a modular section isn't quite the answer to your needs, then let us design and build custom safe deposit boxes that will perfectly fit in your facility. Our custom safe deposit boxes are made using ½" solid polished aluminum doors and can be tailor to suit almost any setting. Choose either our stamped numbers or our flexible numbering plate system. Contact a SEICO bank equipment designer about creating a custom layout of safe deposit boxes for your specific project.
FAST KEY CUTTING SERVICE
Call SEICO when you need key cutting service for safe deposit boxes and more. We can come to your facility and cut keys for all types of security equipment on your premises. Our key cutting process is quiet and efficient, and we test each key before we leave so that each key is guaranteed to work.
BANK SAFE DEPOSIT BOXES IN PEORIA, ILLINOIS
Our experts here at SEICO provide professional installation and service on all private and bank safe deposit boxes we sell. We focus our services in the northern, southern and central Illinois areas. Based in Pekin, IL our bank equipment professionals help all types of financial institutions spanning from Chicago to Peoria, IL. Contact us to learn more about our safe deposit boxes for sale.