From the leader in video surveillance
Wear it. Capture it. Log it.
With superior video and audio quality, new AXIS Body Worn Video Surveillance system deters crime, protects personnel, and documents forensic evidence. Built on an open platform, you can integrate the system into your preferred content destination for flexibility to manage and store the video how you want. Choose from a variety of accessories to comfortably secure and position the body worn cameras on users to meet specific needs. Rest easy knowing your system is performing and backed by a three-year warranty.

Improves law enforcement efficiency plus officer & citizen safety – today's most critical goal. AXIS Body Worn Video Surveillance system supports this goal for safer communities. It's important that security managers research & find the right solution to fit your agency's needs no matter your agency's size. You'll want a solution with superior video & audio, fast off-loading, FBI cybersecurity standards, and documentation of forensic evidence.
AXIS Body Worn Camera Surveillance System FEATURES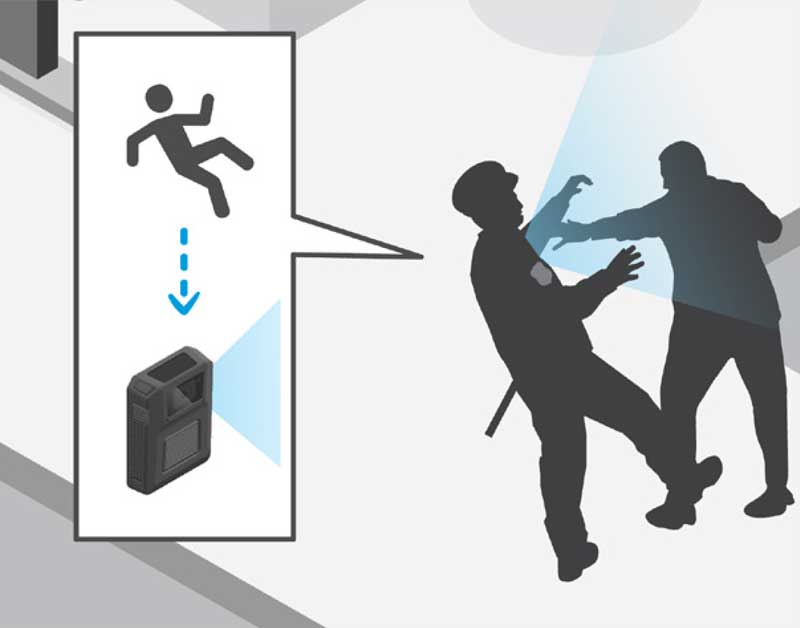 Automatic Activation Feature (fall detection & unholstering)
Beneficial when a user is unable to manually activate recording themselves. For instance, if a person wearing the camera or if a device is removed from a holster paired with a third-party sensor, the automatic activation feature triggers the AXIS W101 Body Worn Camera to begin recording and ensures events are captured.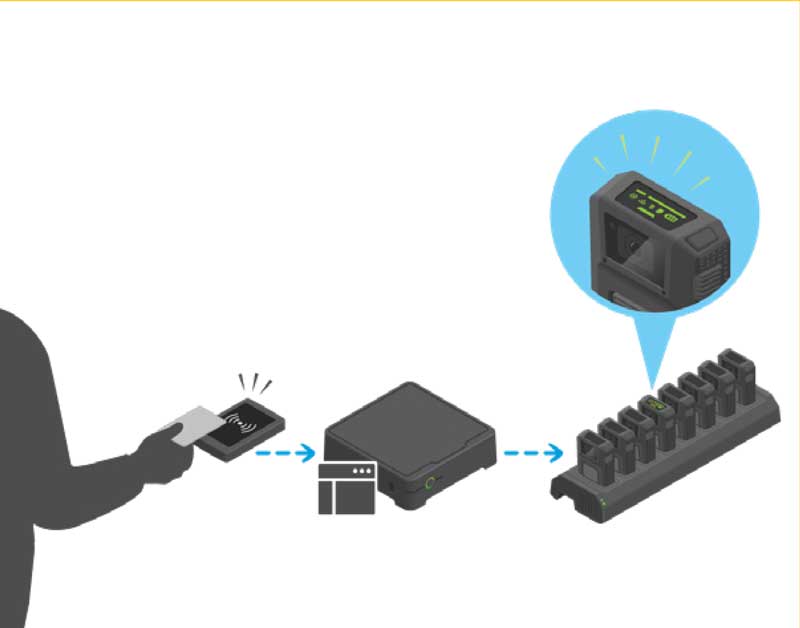 Self-Assign Feature
Allows users to swipe an RFID card or tag to allocate a camera, configured with their specific user information, for a shift duration. This is beneficial for organizations needing to share body worn cameras.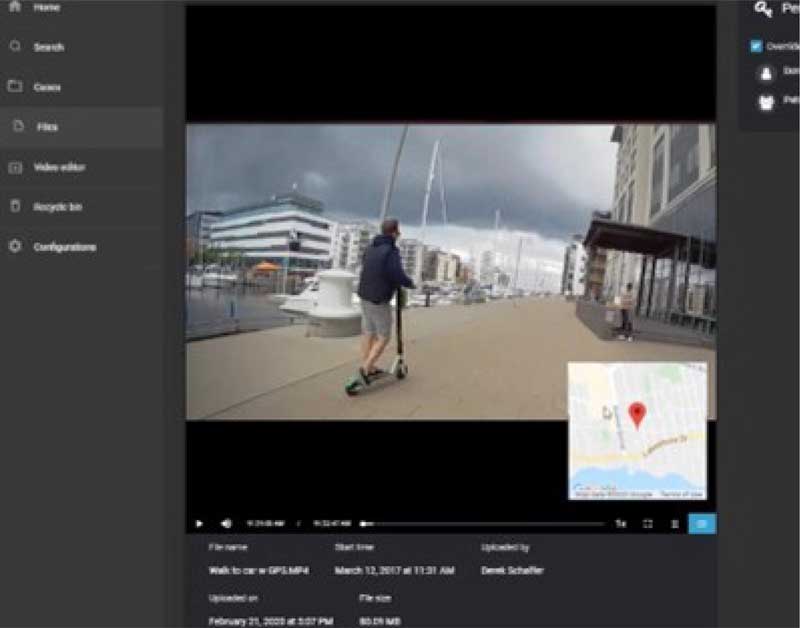 Location Data Feature
An AXIS W101 Body Worn Camera can receive quick and accurate location data from a global navigation satellite system (GNSS) at the start and end points of a recording. This allows for accurate location trail tracking and ensures proper documentation of user location during a recorded event.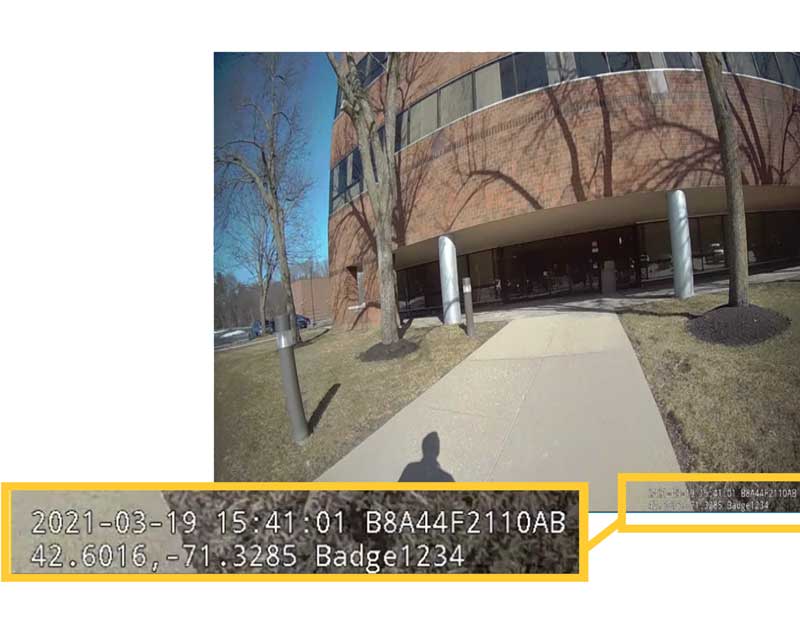 Text Overlay Feature
To help in authentication of video, the option for an easy-to-read, text overlay on a recording can include information such as live time and date, user ID & username of camera wearer, serial number, and GPS coordinates.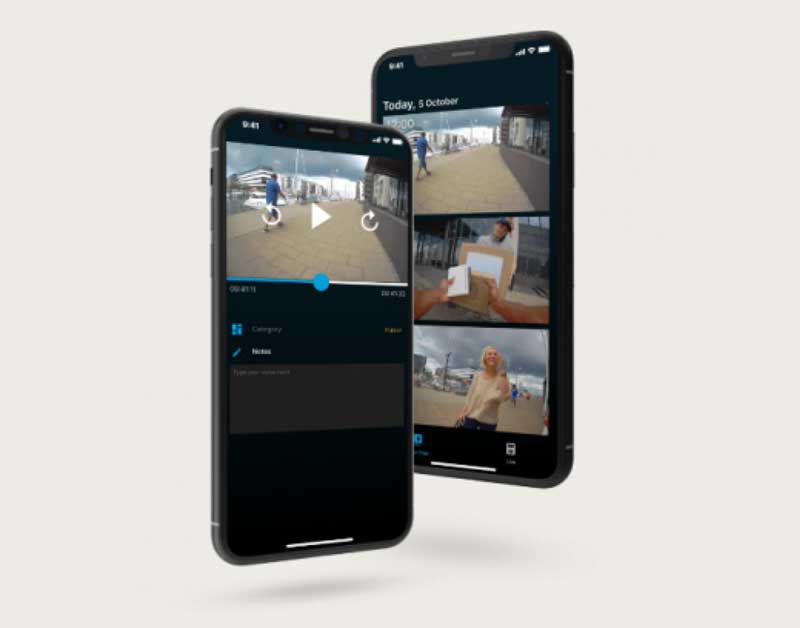 AXIS Body Worn Assistant Feature
Instant access to stored recordings on AXIS W101 Body Worn Cameras with free mobile application for iPhone and Android. Prep reports from anywhere by categorizing or adding notes to a recording. App includes a Live View function to assist user in properly adjusting camera viewpoint. View live events from around a corner or behind a barrier. Video is never stored on mobile device, so no ability to export or edit video. Users have no worry about their phone being requested as evidence.
Open. Secure. Scalable.
Built on an open platform, you choose your preferred content destination, whether with Axis or a third-party video or evidence management provider. Fast and reliable video offloading and FBI standards for cybersecurity provides confidence in your system. Cost effectively scale your system – easily adding users, cameras and controllers as needed.
AXIS W101 Body Worn Camera
Easy-to-use, lightweight, durable body worn camera delivers sharp images even in challenging conditions and excellent audio with noise suppression.
Up to 12 hours of operating time at 1080p
Robust design with IP67 & Mil-spec ratings
Built-in GNSS receiver for location trail tracking & Bluetooth for automatic recording activation
FBI standards for cybersecurity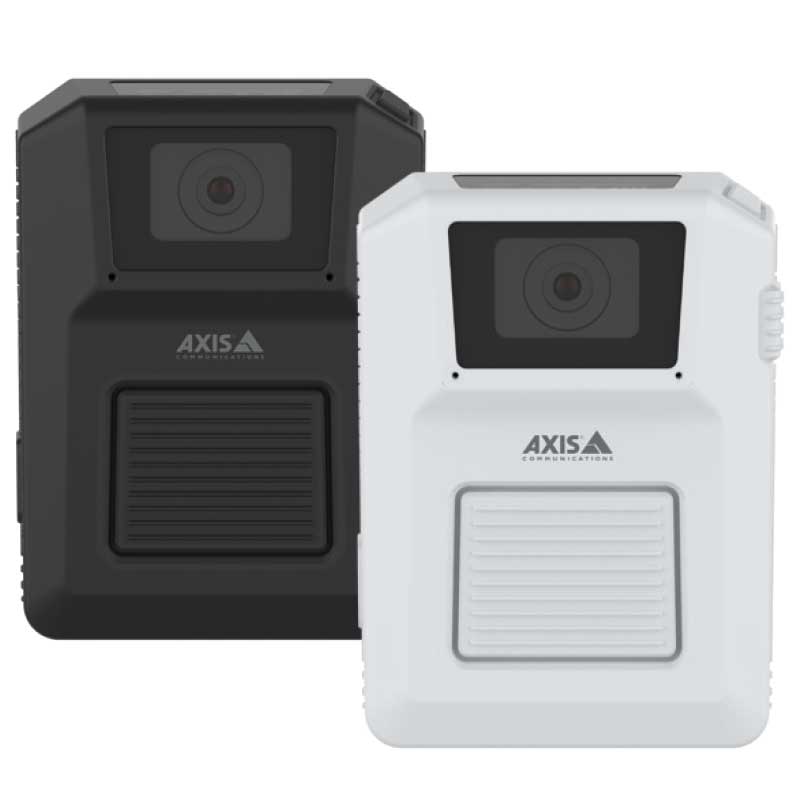 AXIS W800 System Controller
The central integration and management point of the body worn solution, the controller ensures a high speed and supervised data offloading from body worn cameras.
Supports up to five docking stations & 40 cameras with option to support expanded systems
Easily manage system devices & users
Built-in temporary storage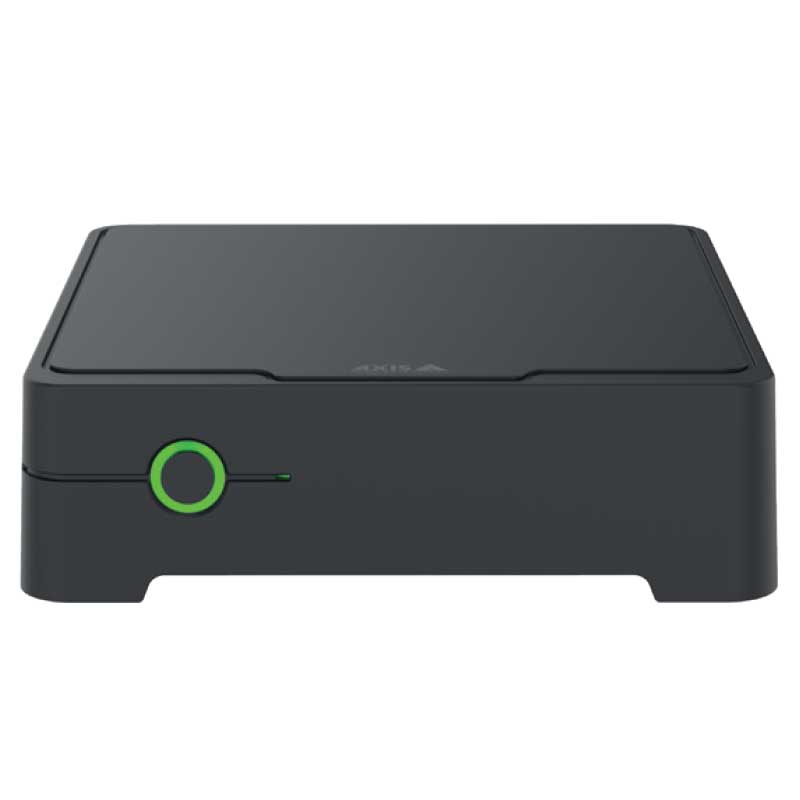 AXIS W701 Docking Station 8-bay or AXIS W700 Docking Station 1-bay
Quickly charges body worn cameras and ensures easy data offloading to system controller.
1 or 8-bay station available
Secure, reliable offloading
Splash-proof design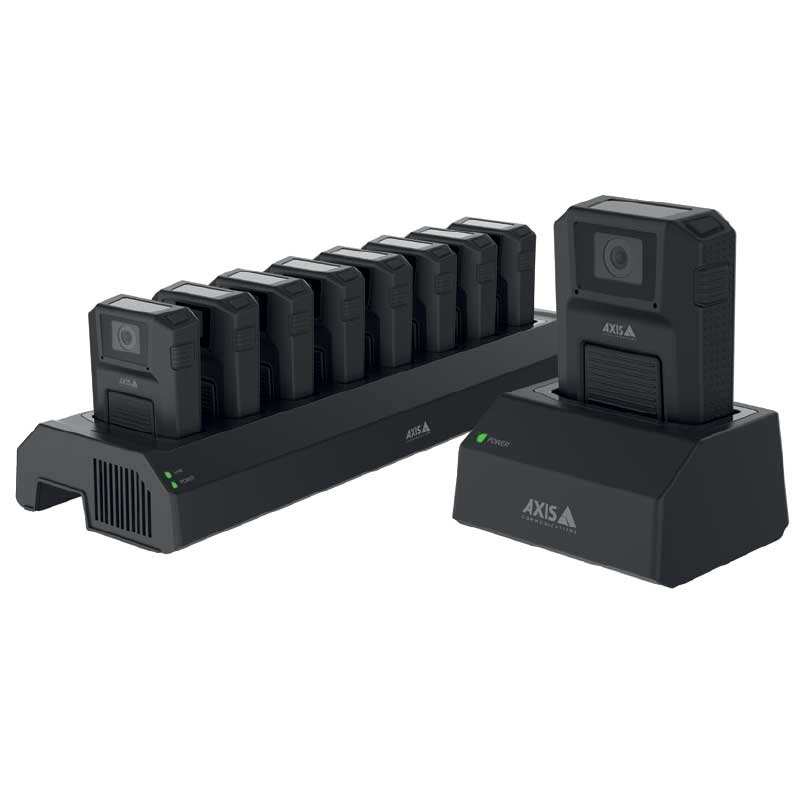 Wear your body worn camera with confidence.
Whether it's the AXIS W101 Body Worn Camera, AXIS TW1201 Mini Cube Sensor, or AXIS W800 System Controller, secure your wearable product with easy-to-use, flexible mounts. Axis mounts are durable and can be used on a variety of clothing materials or tactical equipment. Each body worn accessory uses the Klick Fast System – an innovative connector system that locks and secures your wearable equipment while allowing you to rotate and position it to your liking. Whether you need to mount, protect, position, or extend your body worn camera – Axis body worn accessories offer the added flexibility to tailor your solution to your specific needs.
AXIS Camera Station™ – Video Management Software
The evidence you need, on the platform you trust.
Having a seamless way to capture, view and manage all of your Axis Body Worn Video footage in one solution allows you to get the full picture more easily. By leveraging AXIS Camera Station video management software as your body worn content destination, you benefit from a simple, scalable, end-to-end solution.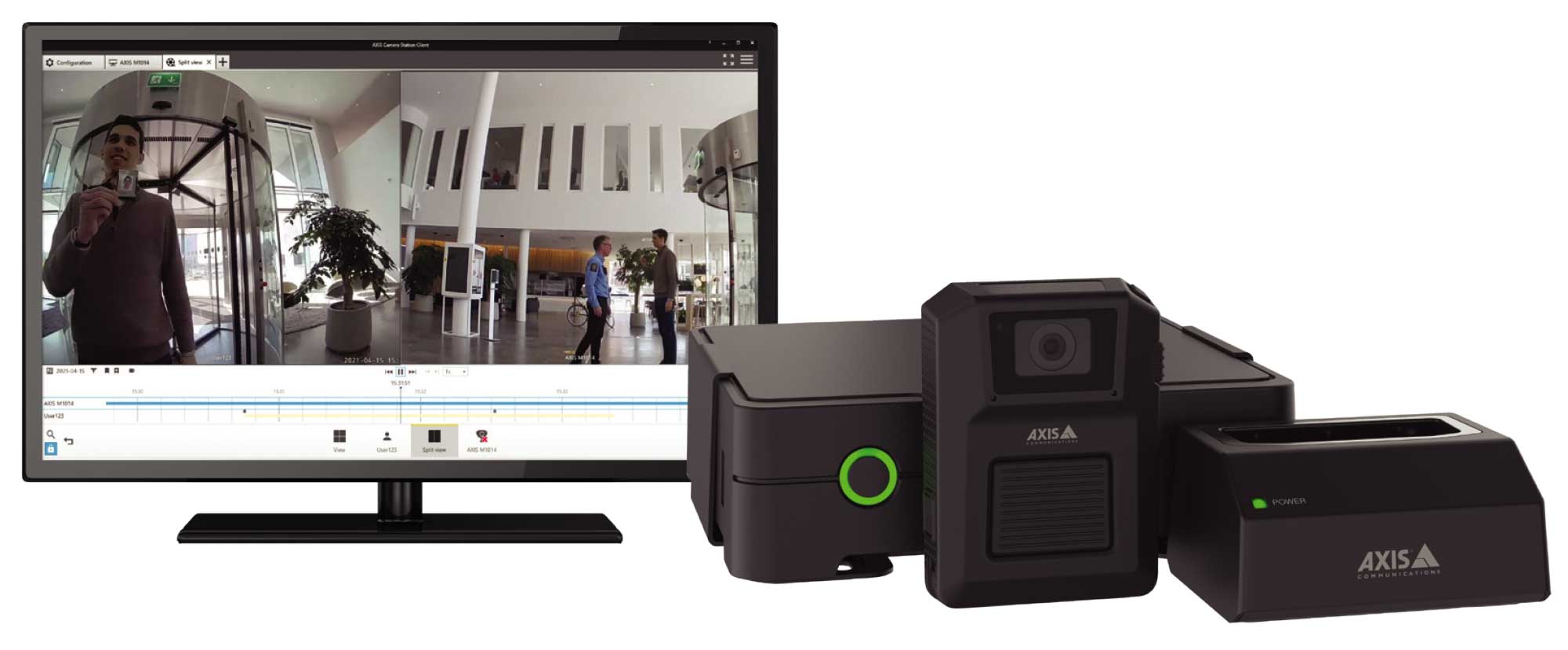 AXIS Case Insight™ – Cloud-Based Software
Present your case with confidence.
In order to build a strong case, you need evidence that is organized and admissible in a court of law. In addition to capturing and storing high-quality video with your Axis body worn system, you can extend your solution even further by utilizing AXIS Case Insight. Hosted and managed by Axis, this cloud-based software allows you to securely upload and manage all types of digital evidence in one centralized location – so you can analyze and present your case with confidence.
Gather & manage digital evidence in one centralized location
Ensure data integrity with end-to-end encryption & audit trail functionality for secure chain of custody
Scale your system as your needs grow with unlimited video storage for Axis body worn cameras
SEICO SECURITY… SURVEILLANCE FOR SAFER COMMUNITIES
New AXIS® Body Worn Video Surveillance